«I always make the joke, that I go home, to one of my homes, to go and do laundry so I can go on the road again» – Hugh Masekela
When you spend as much time on the road as we do, eventually someone will have to track down a Wash, Dry and Fold, or break down and just do it themselves. It just takes more hours out of your day. And our hours are precious to us.
I am constantly seeking an opportunity to visit with our child, spend time with my wife, call a sponsor or manage all the travel details of our team. When we are three time zones west of NY, the days feel even longer.
The emotional ups and downs also disrupt your day, particularly when you have a great win or an especially tough loss. After 20 years of 36 or more weeks on the road per annum, I still find that I cannot easily go to sleep in those circumstances.
You never want to miss the opportunity to visit with friends who you see rarely, I have often spent late nights with two of my favorites, Franco Gusso and my publisher, Fernando Lema. We all seem to suffer from insomnia some times, but we make the most of it. One of the more frequent complaints of tournament attendees everywhere is that the bar closes too early.
Sunday morning has its additional issues. Frequently there is an earlier start time, so the additional anxiety of potentially oversleeping makes for a less restful night. Packing, rushing, playing… it makes for a very full day.
---
00:59 7 September 2013 by  GS Jade Barrett, USA CSBNews correspondent.
«These children don't need a cup, they need a cow» – Heifer International founder Dan West
The Great American Bridge Tour teamed up with Heifer International (
www.heifer.org
) earlier this year to create the new bridge TEAM HEIFER INTERNATIONAL to raise awareness for this 75 year old charity. Ranked the 12th best Non-Governmental Organization in the world by the Global Journal and a top-ten trusted charity by Harris Interactive, Heifer International has projects in 43 countries currently running.
As TEAM HEIFER INTERNATIONAL has participated in tournaments, we have discovered that many players support this great charity. It has been rewarding to help connect our community of players to this worthy cause.
TEAM HEIFER INTERNATIONAL has already had a few competitive successes, winning events at Council Bluffs, Iowa, Atlanta, GA, Des Moines, Iowa, Santa Clara, California, Irvine, California and Tulsa Oklahoma in its first three months.
There are more events planned for this year and next, and we hope that more bridge athletes will ask amount the charity and its mission.
---
19:57 6 September 2013 by  GS Jade Barrett, USA CSBNews correspondent.
«High self expectations leads to good things. Low or bad self expectations lead to bad things».  Mr. Andrews as quoted on
Russ's Web
Irving Gold joined the Great American Bridge Tour today and earned an entry into tomorrow's semifinal. His two victories fulfilled his requirements for Lifemaster status.
We are proud of his performance and are appropriately celebrating it at Il Fornaio in Irvine, California.
 Italian is a favorite of the TOUR, as we are constantly on the lookout for excellent dining experiences. My personal efforts begin with asking not the concierge – though they can be an excellent source of information – but the front door men. They have multiple opportunities to tell cab drivers where their fares are going. After a while they gain knowledge of the restaurants and bars that are favorites among the patrons of their property.
A good tip early in the week is a boon to yourself, as you are much more likely to receive superior service from these bastions of information.
In any event, we love a great dinner and a new Lifemaster is an excellent reason to party, so hear we are. A little vino, a little pasta, a little protein, a lot of dessert…and then back to the table tomorrow for more opportunities for competitive joy or failure.
The game is a great metaphor for life.
PD: Congratulations to TOUR player Dr Irving Gold who became an American Contract Bridge League Lifemaster on Friday 6 September 2013 by earning an entry into Saturday's KO Semifinal. Irv played with GS Jade Barrett, James Looby, Bjorgvin Mar Kristinsson and Alex Fowlie in Irvine, California!
---
08:47 6 September 2013 by  GS Jade Barrett, USA CSBNews correspondent.
«Time and Tide wait for no man» – Geoffrey Chaucer
 The 10:30, 15:15  and 19:30 playing schedule is simply brutal for full time players. No time for meals, no time to rest, no time to depressurise. 
The attendance at the third session is virtually no existent, yet we are contracted for the week. Our team actually enjoys three sessions a day on the 09:00, 13:00 and 19:30 playing schedule and we will play the 18 or 19 sessions that the tournament provides. We select the Regionals that we travel to based on two factors – the scheduled times and the number of team events available to us.
Not that we dislike Pairs, but they are tiresome to play when we typically handle the hard hands in about 6 minutes and the easy ones in much less time. This means that we stand around for about an hour and a quarter each Pairs session waiting for someone to move. A typical 24 board Team match lasts about two and a half hours for us. That means over an extra hour of free time each session. And it adds up.
We also enjoy the social aspect of Teams, as well, with the opportunity to visit during the play. With Pairs, the constant vigilance required for every bid and trick forces players into a more intense personal space that entails greater focus on detail. This is not conducive to personal discourse among opponents.
And bridge athletes do love to talk. 
5-Sep-13 Alex Fowlie and Donna Wood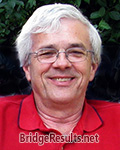 Alex Fowlie and Donna Wood scored 13.19 masterpoints with a ★65.67%★ game at Orange County Regional – District 22. See full results of this game. 
---
 «In the Olympic Games, everyone is talented. Everyone trains hard. Everyone does the work. What separates the gold medalists from the silver medalists is simply the mental game» – Olympic Gold Medalist Shannon Miller.
Every day someone picks up the game for the first time. If they practice mental discipline, they will have the chance to win a championship. Sondra Modell Hirsch is the newest member of the Great American Bridge Tour and while she has picked the game up late in life, she has already shown signs of becoming a fine player. Tuesday, we won one of the secondary events. She performed as well as athletes who have competed for one decade for each of the years she has been playing. She just had to work very hard.
 Newer players have the decided disadvantage of inexperience – there is much less of the automaticity that is found in all athletes who have been competing for years. The novice competitor has to think through every detail, so they also have a stamina challenge that those who have built «muscle memory» that their more experienced opponents have acquired. (The Dana Foundation, a private philanthropic organization committed to advancing brain research, has a briefing paper for
The Mental Preparation of High-Level Athletes by Kayt Sukel
that provides a few insights into the state of conditioning of great athletes. It  is an interesting read. You can find it at
www.dana.org
.)
While they do not share the experience level of their opponents, these newer competitors are capable of making excellent decisions immediately. There is no situation that a great player can resolve successfully that a novice cannot duplicate.  The great player is just more likely to do it.
Welcome to the game.
---
11:16 3 September 2013 by  GS Jade Barrett, USA CSBNews correspondent.
«The greatest stars you'll ever see, some are flyin's; some are drivin's;…» Jan and Dean lyrics (Here they come) From All Over The World.
Our team this week is Donna Wood from San Diego, California, Jim Looby from Las Vegas, Bjorgvin Kristinsson, recently moved from Iceland to Boynton Beach, Florida, Alex Fowlie, originally Canadian, but not now a Southern California resident, Sondra Hirsch who splits her time between California and Florida and myself, who lives in South Dakota, but has lived just about everywhere. Have suitcase, will travel.
Everyone's journey as a player is uniquely their own. While we play a common game in common environments, none of us play it exactly the same way. It constantly amazes me how many different forms the linguistics of the game takes. In a way, though, it really is not all that surprising given the vast mental resources of the athletes who partake of this reality.
One only has to view the
Encyclopedia of Bridge
to find the great number of conventions that have been invented – and there are certainly hundreds more that are not listed there.
While many of the thoughts are duplicated, each of them found birth in the mind of a competitor who needed to solve a problem. Just because many of these thoughts are not original does not discredit the effort put in by these people – it makes them stronger players. Reading bridge has value, but doing your own work allows you your personal ownership of your methods and system. That is a proven path to success.
---
 09:10 3 September 2013 by  GS Jade Barrett, USA CSBNews correspondent.
«Don't settle down in one place. Move around, be nomadic, make each day a new horizon» – Jon Krakauer
 Our Great American Bridge Tour team for Irvine arrived on Monday – a new tournament with different staff.
We rarely stay at the host hotel, thanks to online hotel bidding sites. The Bridge Road Warriors are famous for snagging great deals for rooms and cars on the Internet. Priceline, Hotwire,
Bookings.com
and a few others are the primary sites of choice. The competition for a great deal is a matter of great honor. The question is asked daily: «What did you get in here for?», in the hope that the respondent paid just a little more.
Canadian great, Cam Doner is one of the legendary bidders of all time. I have given up asking «THE question» of him. Former ACBL President, Don Mamula knows Delta Airlines better than anyone I know and I am a Diamond Flyer with them. However, I am the rental car expert…and the Co-Host of America's Dining and Travel Guide on the
businesstalkradio.net
.     Everybody has to have a hobby.
---
23:18 2 September 2013 by  GS Jade Barrett, USA CSBNews correspondent.
«Travel and change of place impart new vigor to the mind» – Seneca
What is «Get-a-way Day» – a baseball euphemism for leaving the city they are in, whether headed for home, or just down the road to the next four day stay – for some, is pack up and move for others. I am headed to our next Great American Bridge Tour event in Irvine, California.
Today was a busy day, as I packed with the help of my wife and partner, Karen; played six 8 board Swiss matches, drove the 37 miles to the San Francisco Airport where I turned in the rental car and checked Anna and me onto our flight to Los Angeles.
I then picked up another rental car and drove an hour to the Hyatt Regency to catch up with our teammates in Irvine (Orange County) California.
 The trek provides only a few minutes of nap time on the plane, but enough to gather my wits. Constant travelers suffer chronic exhaustion of varying degrees all the time, for it is very difficult to be able to settle in to a new space instantly. Tonight, however, after a quick midnight meal at IHOP, I will finish this note, go to bed, and face the new day at our next tournament – the Orange County Regional.